'Together in Christ we make a difference'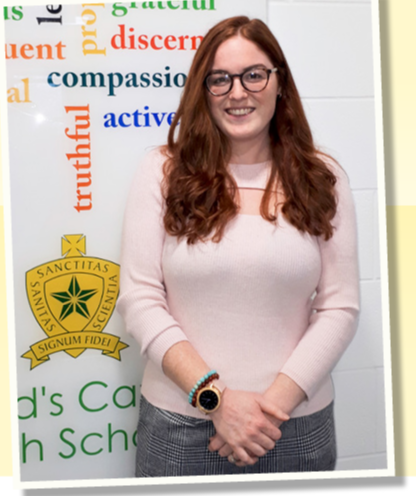 Welcome to the Spirituality section of tour school website. I am delighted Catholicity and Spirituality are finally beginning to flourish after the last two years. The appointment of our school chaplain Victoria Wonnacott is an exciting opportunity to help our pupils and staff to develop their relationship with Christ and each other. This term has been really busy with services in our new chapel, a focus on Ash Wednesday, charity donations for Ukraine and the further development of the Jesuit Pupil Profile. 
Chapel 
We are delighted to be able to announce that our chapel has had a renovation and is back in use as the main focus of regular worship in the school. The chapel has been decorated and certain religious aspects have been added to the decor. We have acquired a beautiful set of Stations of the Cross that have been painted in the style of the Liberation Theology movement and were inspired by St Oscar Romero. Liberation Theology is a religious movement especially among Roman Catholic clergy in Latin America that combines political philosophy usually with a theology of salvation as liberation from injustice. We have chosen this style of Stations as a constant reminder of our mission as Catholics to combat injustice in all its forms and to spread Christ's message of love in our words and actions. Our altar has been adorned with a tapestry of the Last Supper to remind us of the sacrificial nature of the faith. Christ's sacrifice on the cross is an example to us all that we will be called to put others first at times in our lives and that this can be a difficult decision for us to make. We have recently been entrusted with a statue of Our Lady of Fatima. The statue stands proudly on our altar as a reminder of the important role Mary plays in the story of our salvation as the Mother of God. In time we hope to take the statue to our feeder primary schools and involve the younger pupils of our community in collaborative acts of worship. 
The Chapel has already seen plenty of activity in the last few weeks. All pupils in Year 7, 8 and 9 have taken part in a service. The service focused on the meaning of the Epiphany, the visit of the Magi (or wise men) to the infant Jesus, and the gifts they brought to him. Our focus was on the gifts that we have and how we can use them to serve God. This term we will focus on the Stations of the Cross and what Jesus' journey to Calvary means for us in the modern day. Staff have taken advantage of the Chapel by having a weekly prayer reflection on a Friday morning. The focus of these reflections varies from week to week and can be personal to the member of staff leading it or on a wider religious aspect.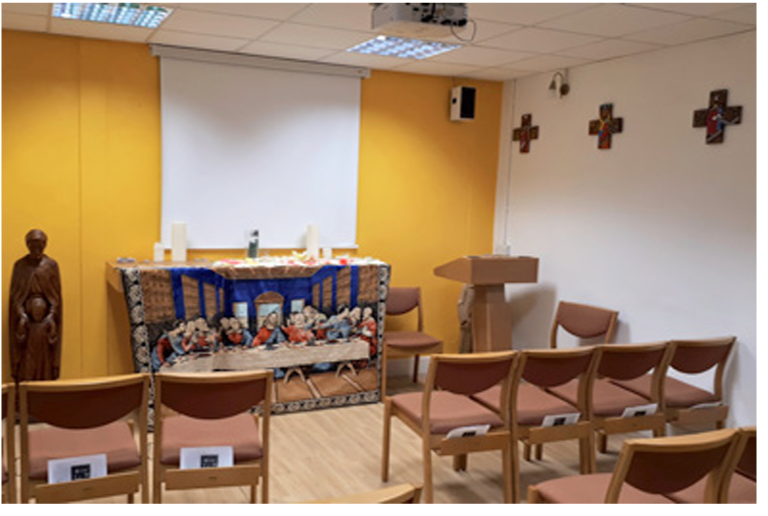 St Illtyd's is a Catholic school with RE and spirituality at its core.
The mission of St Illtyd's is to be a fully inclusive Catholic School where every person is valued and respected for who they are. We aim to educate our pupils in the wholeness of mind, body and spirit through the teachings of Jesus Christ.
Pupils are encouraged to:
Develop Christian values to shape their life choices
To be religiously literate young people who understand the place of Catholic values in life and society
Develop their sense of citizenship, charity and respect for others
To achieve the best qualifications they can and to have an enthusiasm for lifelong learning
St Illtyd's offers the opportunities to fulfil this through:
Dedicated RE lessons to develop pupils knowledge and understanding of the Bible and Church teachings
Daily acts of worship – assembly and form time
Regular form and year group Mass
Working with partner primaries and parishes to promote unity and community values
Develop awareness of the needs of the poor and oppressed
Offer the opportunities to raise funds for local and international charities
'Whoever welcomes one such child in my name welcomes me.'
(Matthew 18:5)
St Illtyd's Pupil Profile?
St Illtyd's has adopted the 'Jesuit Pupil Profile.' The Profile is a response to the question: 'What kind of person would you really like to be?' (Pope Benedict – St Mary's University, Twickenham. 17th September 2010) The St Illtyd's Pupil Profile offers a vision of what it is to be a good person and supports the moral and spiritual development of our pupils and staff.
At St Illtyd's we will concentrate on a set of virtues each half term.
These will be the focus of assemblies, prayer resources and will be visible throughout the school.
2020 -21
Autumn 1 – Curious and Active
Autumn 2 – Intentional and Prophetic
Spring 1 – Grateful and Generous
Spring 2 – Attentive and Discerning
Summer 1 –Compassionate and Loving
Summer 2 – Faith-filled and Hopeful