St Illtyd's staff and pupils are taking on the challenge of walking 200km as a school during Lent to raise money for CAFOD. They will be covering the distance during PE Lessons as well as other activities during school time.
Please sponsor us by following the link to our school fundraising page. https://cafod.enthuse.com/pf/victoria-wonnacott
We are taking on the Big Lent Walk! 200km in 40 days throughout Lent. Staff and Pupils willl be working with the PE department for The Big Walk by tracking any walks/runs completed in PE lessons or ou
Year 7 Youth Action Group
January saw the launch of the Youth Action Group for year 7, we had an incredible turnout where 55 pupils showed up to the initial welcome meeting. The 55 students were broken down into 4 groups, each group assigning a President and Vice President. The Youth Action Group (YAG) focuses on 3 key elements; SEE, THINK and DO, turning their concern into action. The group will focus on our school community, the local community, global community and our primary schools. This coming term will see us focus on working with our primary schools in collective worship, workshops and charity work. They will be building up a relationship with the St Vincent De Paul Centre to encourage the already budding partnership the school has with them.
Group 2 of our Youth Action Group – Unity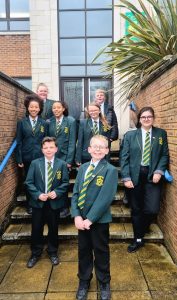 President: Mason-Lee   Vice President: Hunnie
Year 10 Youth Action Group
Our current year 10 Youth Action Group has been incredibly busy since it formulated back in 2022. They have attended the SVP Community Engagement day where they met and collaborated with other Catholic High Schools in South Wales, it was at this event the group started to build a good relationship with the leaders of the SVP Centre in Ely Bridge. The group ran a successful Candy Cane fundraiser during Advent to raise funds for supplies for two charity workshops filling bags with essentials for the homeless and gift bags for the residents of Quarry Hall Care Home. They have collaborated a number of times with the SVP Centre who invited them to a Christmas Food Hamper workshop where they, along with volunteers from Holy Family Church, filled over 100 trays with food and handwritten Christmas cards for vulnerable families in Cardiff.
This term the year 10 group will be fundraising for the Turkey-Syria CAFOD Appeal by holding a Hunger Lunch in the school hall on 21st March.
Logo Winner from the winter term logo competition
Group 4 of our Youth Action Group – The Guardian Angels
President: Rafia , Vice President: Logan